Smile Dental Clinics - Phoenix, AZ
Dentures & Partial Dentures
Dentures are removable, natural-looking replacements for teeth that can be made as either partial or full sets.
Smile Dental Clinics - Phoenix, AZ
Dentures & Partial Dentures
Dentures are removable, natural-looking replacements for teeth that can be made as either partial or full sets.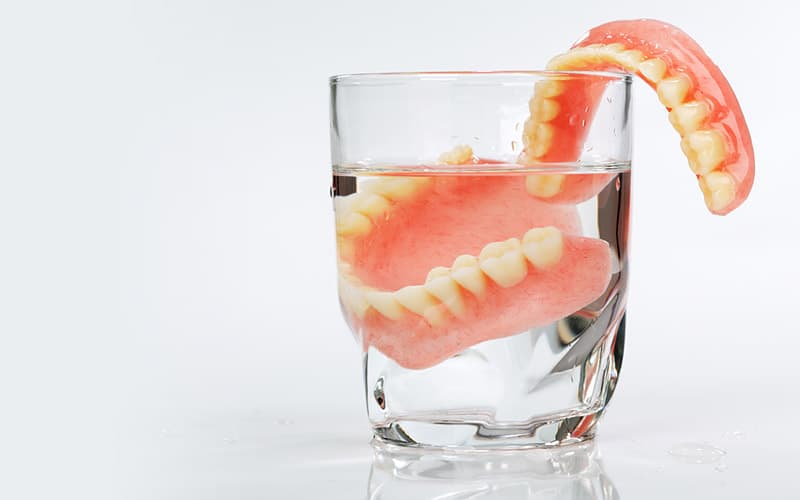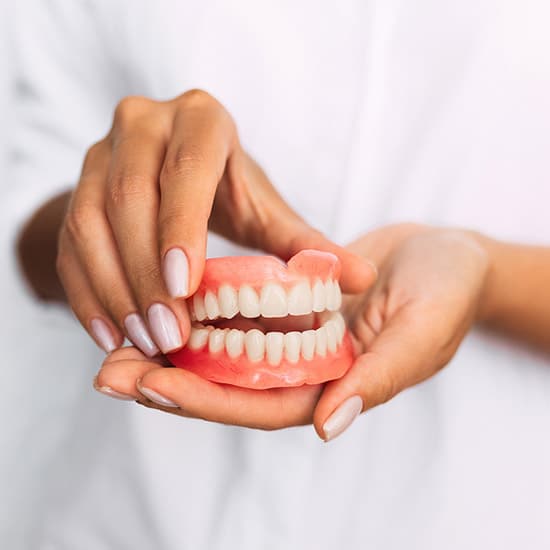 Full Dentures
Full dentures are given to patients after removal of all of their natural teeth. It can be a lengthy process that can take up to 12 weeks to complete, especially if the gums need adequate time to heal after extractions. Some patients may be given temporary dentures during this time, but they're likely to become loose due to shifts in the gums and jawbone that come with tooth loss. When the permanent dentures are ready, they may need to be adjusted a few times to find the right fit.
Especially with a full set of dentures, it may take a little practice to return to normal patterns of chewing or speaking. They also require proper oral care, just like natural teeth. Be sure to use a gentle cleanser to brush your dentures, always keep them moist when you're not using them, and be sure to keep your tongue and gums clean, too.
Immediate Dentures With Extractions
It is possible to place immediate dentures into the mouth immediately after any remaining natural teeth are extracted and while the full permanent dentures are being made. It's not usually considered a permanent solution, but can be used when a patient doesn't want to go weeks or months without teeth. Immediate dentures can also act as a type of bandage while the tooth sockets are healing from extractions.
Ideally, however, immediate dentures are step one of a two-step procedure and should be considered temporary until a second, permanent and refined set of dentures is fabricated.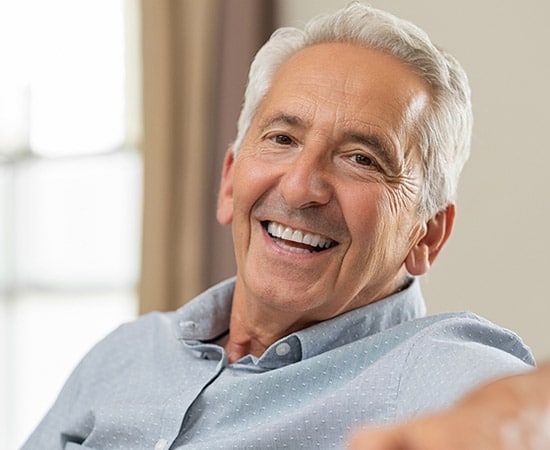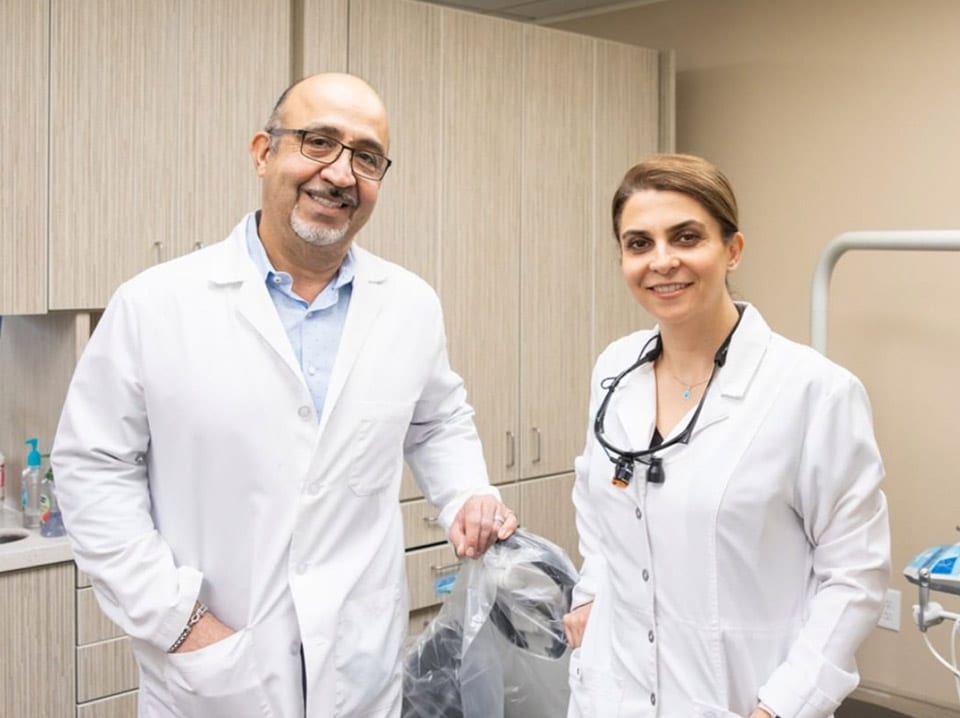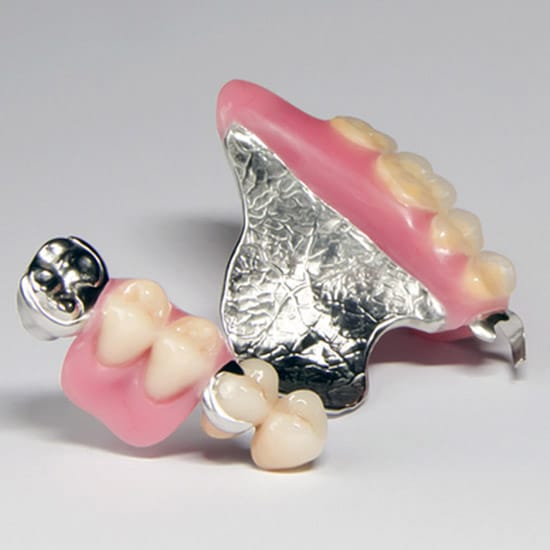 Partial Dentures
A partial denture, which is also sometimes referred to as a removable bridge, is attached to your natural teeth using a metal frame and used to fill in gaps formed by missing permanent teeth. Partial dentures can include replacement false teeth that are attached to a gum-colored base and are used when enough natural teeth remain to hold it in place. Their benefits include not only cosmetic fixes to missing teeth, but also the prevention of surrounding teeth from drifting into gaps.
To create a partial denture, your dentist will do a thorough exam, take X-rays of your teeth, and then make a series of measurements and impressions to study not only the missing areas, but the interaction between your jaw bones. A lab will then create wax or plastic molds in the exact shape needed for the denture.
Once you've selected the right mold for your mouth, it will be created to match the shape, size and color of your surrounding natural teeth. When it's ready, you'll come back in for placement and fine-tuning adjustments if necessary.
Acrylic Partial Dentures
Acrylic partial dentures are an affordable option for some patients that are often available same-day. With this type of partial denture, the replacement teeth are set into an acrylic base and attached to the surrounding natural teeth with small clasps. An acrylic partial denture may be ideal for a patient who has only a few natural teeth remaining, but it may also feel more bulky inside the mouth.
Our trained dental staff can help you determine which type of dentures are right for you.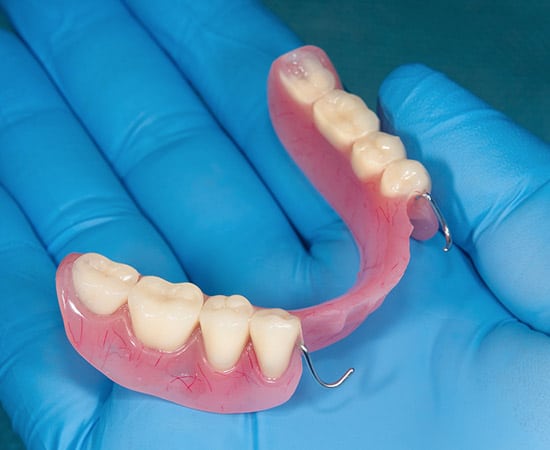 Dr. and assistant were wonderful and super friendly. Very gentle and caring. They both made sure I was comfortable and very happy with my procedure.
Jennifer Mendoza
16:06 18 Sep 20
I went in for my 6 months checkup. My dental hygienist was great; no pain & he worked fast & efficiently. The doctor came & did a review of my checkup, explained how they are watching some of the older fillings. No pressure on doing any unnecessary work. Great experience. The whole staff was great. With the pandemic, I felt safe with all the procedures in place.
Margie Russ
19:45 15 Sep 20
The team were very professional
Kathy Stillman
21:53 11 Sep 20
Super friendly, the staff didn't make me feel embarrassed on my lack of oral health. They were super informative!
Jocelyn Chavez
18:02 10 Sep 20
Great dental service, starting with the staff in the front desk very attentive and helpful. Having a deep cleaning myself, it was just a smooth process from the beginning to the end with very explained detailed staff that guide you and inform you with every detail of what's going on during and after. I really recommend Smile Dental Clinics for any of your dental services.
Angel Oropeza
13:30 24 Aug 20
As a person who had not gone to the dentist until I started having complications with a decay this clinic made the process easy and comfortable( I went to a couple other clinics and this was by far the best for me.) I love this place they are affordable, friendly and professional. There are Spanish speaking personal all over the clinic to attend anyone who needs it. I absolutely reccomend this place. The procedures I have gotten have had no complications. My dentist and the assistant always keeping me informed and answering any questions I may have. THANK YOU Smile Dental.
Arely Moreno
16:18 21 Aug 20
First time in this office, chose them because they are contracted with my insurance and scheduling was super quick and easy. They are doing there part to stop the spread and keeping me safe by having me wait in my car until they are ready for me which can be rough in this heat so be careful. I am immune compromised so this was very important.Hygienist was informative and thorough in talking with me about what was happening every step. Dr. Harsini came in and went over the x rays and pictures.. That was torture, you see every little blemish on the big screen. We discussed my illness and what I wanted or expected out of treatment. I felt that he was engaged in the conversation and truly heard me. He gave me his thoughts and educated me about the different options and what he believed would be the best decision for me. There was no sales pitch to try to influence any decision on my part. He gave my options strongly encouraging what he felt was the best decision for me. Leaving it all up to me and I can let him know what I decide. Upon checking out at the front desk to schedule follow up, I spoke with yet another highly educated person who gave me options and provided information to help me make best decisions. If you want a dental provider that cares and no pressure office visits this may be the one for you.
Catherine Coleman
16:15 12 Aug 20
I go to Jose. He has taken very good care of my teeth. My deep cleaning wasn't as scary as I thought it would be thanks to him! AMAZING staff!
Mary Lucio
18:55 06 Aug 20
Buen servicio y muy amables.
Charles Xavier
00:03 25 Jul 20
I love Smile Dental Clinics, the staff is amazing very patience, helpful and friendly. The level of customer service is top notched from the beginning to the end. I received an upper denture and Dr. Harsani and entire staff Yessisa, Dalani and Sergio did an amazing job. My denture looks so natural! Thanks again Smile Dental for helping God smile on me! Susan Price.
Susan Gray
21:48 23 Jul 20
Jose and Luis have been my hygienists and they are so friendly; my times getting my cleanings go by so quickly and effortlessly! David and Jason (my orthodontists) are awesome and always answer any questions I have about my braces! I absolutely love this office and if I can sum this place up it'd be: friendly, professional, and excellent costumer service! Thank you Smile Dental!
Jackie Pantoja
20:07 20 Jul 20
Love this place everybody is very nice 👍
Maribel Hernandez
19:29 15 Jul 20