Smile Dental Clinics - Phoenix, AZ
Dentures & Partial Dentures
Dentures are removable, natural-looking replacements for teeth that can be made as either partial or full sets.
Smile Dental Clinics - Phoenix, AZ
Dentures & Partial Dentures
Dentures are removable, natural-looking replacements for teeth that can be made as either partial or full sets.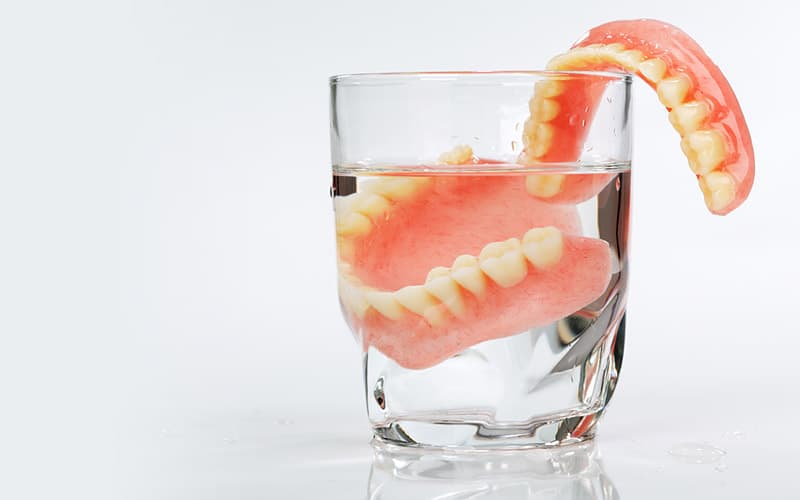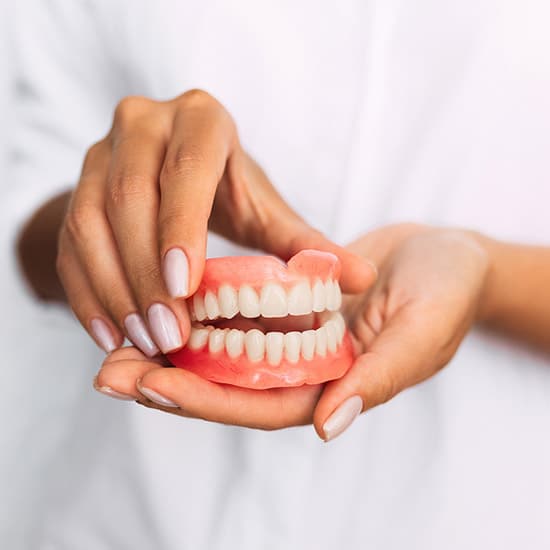 Full Dentures
Full dentures are given to patients after removal of all of their natural teeth. It can be a lengthy process that can take up to 12 weeks to complete, especially if the gums need adequate time to heal after extractions. Some patients may be given temporary dentures during this time, but they're likely to become loose due to shifts in the gums and jawbone that come with tooth loss. When the permanent dentures are ready, they may need to be adjusted a few times to find the right fit.
Especially with a full set of dentures, it may take a little practice to return to normal patterns of chewing or speaking. They also require proper oral care, just like natural teeth. Be sure to use a gentle cleanser to brush your dentures, always keep them moist when you're not using them, and be sure to keep your tongue and gums clean, too.
Immediate Dentures With Extractions
It is possible to place immediate dentures into the mouth immediately after any remaining natural teeth are extracted and while the full permanent dentures are being made. It's not usually considered a permanent solution, but can be used when a patient doesn't want to go weeks or months without teeth. Immediate dentures can also act as a type of bandage while the tooth sockets are healing from extractions.
Ideally, however, immediate dentures are step one of a two-step procedure and should be considered temporary until a second, permanent and refined set of dentures is fabricated.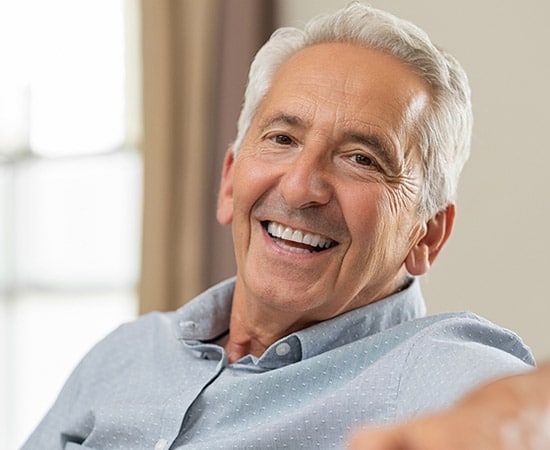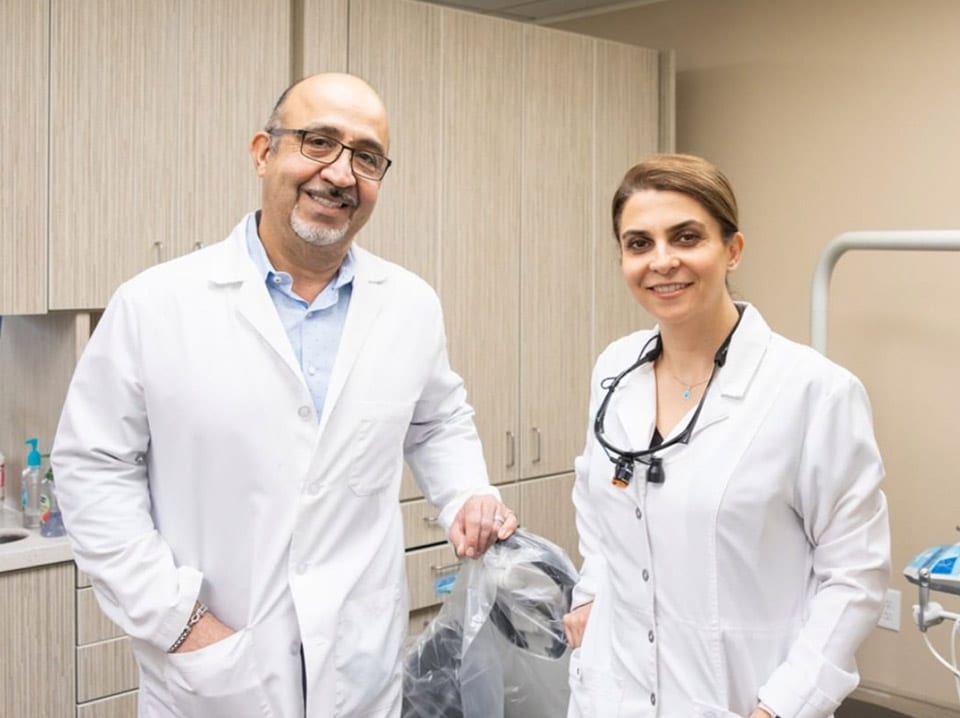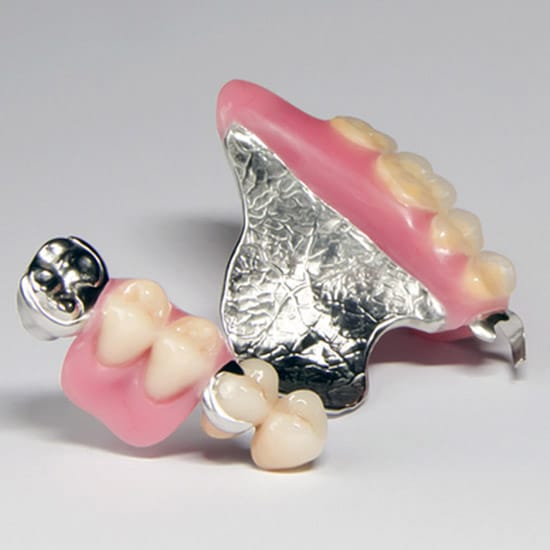 Partial Dentures
A partial denture, which is also sometimes referred to as a removable bridge, is attached to your natural teeth using a metal frame and used to fill in gaps formed by missing permanent teeth. Partial dentures can include replacement false teeth that are attached to a gum-colored base and are used when enough natural teeth remain to hold it in place. Their benefits include not only cosmetic fixes to missing teeth, but also the prevention of surrounding teeth from drifting into gaps.
To create a partial denture, your dentist will do a thorough exam, take X-rays of your teeth, and then make a series of measurements and impressions to study not only the missing areas, but the interaction between your jaw bones. A lab will then create wax or plastic molds in the exact shape needed for the denture.
Once you've selected the right mold for your mouth, it will be created to match the shape, size and color of your surrounding natural teeth. When it's ready, you'll come back in for placement and fine-tuning adjustments if necessary.
Acrylic Partial Dentures
Acrylic partial dentures are an affordable option for some patients that are often available same-day. With this type of partial denture, the replacement teeth are set into an acrylic base and attached to the surrounding natural teeth with small clasps. An acrylic partial denture may be ideal for a patient who has only a few natural teeth remaining, but it may also feel more bulky inside the mouth.
Our trained dental staff can help you determine which type of dentures are right for you.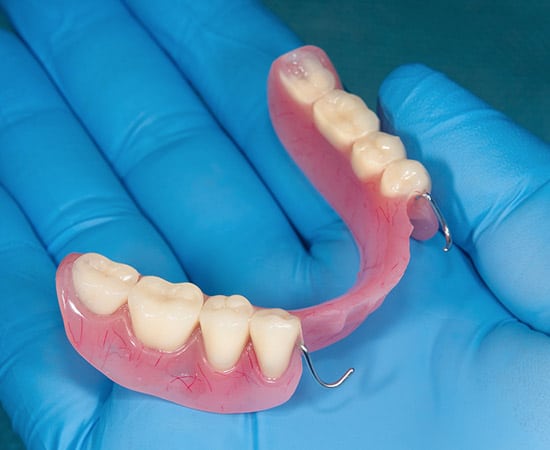 Erika was a beast! LolI always laugh when I come here. The people are great!Erika and the team always treat me so well.I honesty went in for a 2nd opinion and ended up making this location my primary dentist.Oh and ask for Dr. Tulsi! Absolutely the best!I'm having my first implant and she has made it so comfortable. I purposely schedule my appointments on the days she is there.She personally texted me a few days after my procedure. I thought it was a just a robo text. So when I saw her on my follow up. She said you never texted me back to let me know how you feeling.I was like, that was really you? After that I was sold.All and all. Very personable, kind, fun chats and easy to talk with.Oh can't forget Sergio! We shared Christmas light pictures of our homes.It's the little things like that.
Matthew Cook
02:45 28 Jan 23
I appreciate the diligence and patience from Sir Clarence. I haven't had my checkups since Nov 2020. Looking forward to my checkup and Happy Belated birthday!Salute!
Royston Gibbs
02:44 25 Jan 23
They have been amazing. Clarence has been mine and my husbands hygienist and has been incredible. Given that it's been a while since we've gone to the dentist and we were nervous to go back, he's done a great job at keeping us at peace and happy during our visits, which we appreciate so much!
Danielle Giraldo
02:43 24 Jan 23
Took the fear of going back. Your all so nice and never felt pain,not even after. Thank you ,thank you. I'm a patient pay and got a discount 😌 from start to finish it was great. Doctor Lala and Dr harsini your the best 👌
Virginia Camarena
15:04 20 Jan 23
I was referred to Dr Harsini for my dental treatment and made the commute from Durango, Colorado. I strongly recommend Dr Harsini, I had the best experience Karla and Angie were amazing! Keep up the good work guys!
Justin Burton
01:31 20 Jan 23
Very honest and affordable!Love the family vibes in this office- not money hungry like other offices I been in the past. I highly recommend.The dr gives you different options if available- not like other offices that they make you think you only have one option- which is the most expensive route 🤔. Everyone in this office makes you feel great.
Marlene Duarte
02:44 19 Jan 23
Finally found the best dentist in the world . All around staff that really cares . Im happy to spend my hard earned money here. Thanks Eddie's the best Doc around . Always absolutely positive. Trust this 💯 👌
Bret Barker
02:34 19 Jan 23
Mi experiencia es satisfactoria un gran equipo de trabajo yo estoy muy agradecido por el trabajo realizado y todos los que miran pueden ber el excelente trabajo que me isieron mil gracias ahora soy muy feliz me cambio la vida..
Hgranillo43@gmailcom Granillo
03:26 18 Jan 23
Friendly staff. Great customer service.
Eduardo Solano
02:56 18 Jan 23
The work is fabulous, everyone there is kind helpful caring I love my new smile thank you. I recommend them to everyone and again thank you
Gail Martin
02:35 18 Jan 23
Nothing but positive things to say about this location. Everything from the cleanliness to the awesome customer service. This location encourages you to want to return & this is coming from someone who's disliked the dentist a lifetime. 10/10!
Samantha Plascencia Ochoa
12:55 17 Jan 23
I can't say anything negative about Smile.The staff is helpful and efficient. Dr Harsini is very caring and a genuine man.Sergio always makes me laugh. Can't imagine going anywhere else.
Kathleen Tyryfter
02:44 17 Jan 23